People suffer silently from many forms of mental illness and ignorance in the community creates stigmas surrounding this type of illness.
We work to educate parishes and communities.
Mental Health First Aid
What is it? Mental Health First Aid is a course that teaches you how to identify, understand and respond to signs of mental illnesses and substance use disorders. The training gives you the skills you need to reach out and provide initial help and support to someone who may be developing a mental health or substance use problem or experiencing a crisis. (description from the National Council for Mental Wellbeing website). To learn more about Mental Health First Aid visit https://www.mentalhealthfirstaid.org/
Interested in becoming certified in Mental Health First Aid?
Email us at apd@madisondiocese.org or call our office to register for an upcoming course, if you are interested in hosting a course, or for additional questions/information. The course consists of a blended (online/in person) format with ~2 hrs of self-paced pre-course work, followed by an in-person course that is typically ~ 8 hrs (5.5 hrs of content with breaks and lunch). There is a minimum of 5 and a maximum of 15 participants per course per instructor.
Upcoming Mental Health First Aid opportunities:
Saturday, January 21st 9a -5p @ Holy Name Heights in Madison OPEN FOR REGISTRATION
Thursday, January 26th 9a – 5p @ St. Olaf in Deforest OPEN FOR REGISTRATION
Latest News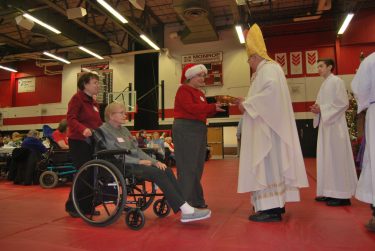 Jul 18 | 2017
The Guidelines for the Celebration of the Sacraments with Persons with Disabilities has been revised and republished by the USCCB! Familiarize yourself with this document. It is a great gift […]