The Apostolate helps people with sensory disabilities (blind and/or deaf) to find a home in their parish and overcome obstacles to receiving the sacraments.
9am Sunday Mass at St. Dennis Parish

Interpreted in ASL
Meet other Deaf Catholics

Diocesan Events

Contact Sue at sueginterpreting@gmail.com to be notified of diocesan or regional events for Deaf Catholics such as speakers, visiting deaf priests, opportunities for Confession, and Bible Studies.

Grant opportunities

Parishes can apply for grants to provide an ASL interpreter for sacraments (including funeral masses) or large parish events that Deaf Catholics want to attend.
For large events, apply online. For one time events (such as funerals), please contact the Apostolate directly.

Sunday TV Mass – with ASL interpreter and closed captioning

Times and channels

6am on WISC-TV 3
7am on TVW (Channel 3.2 for those with antennas) and Direct TV 14 (Cable)
Past masses are posted to our Facebook page early each week

Books to borrow:

Deaf Diaspora by Bob Ayres
Inside Deaf Culture by Padden & Humphries
Hearing Loops (Hard of Hearing)
Look for this symbol at parish entrances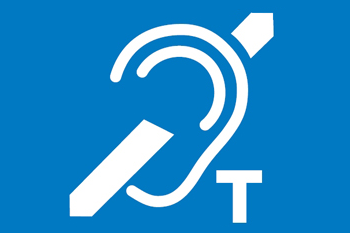 From myhearingloop.org:  "A hearing loop is a physical loop of specialized wire installed in any size room. Hearing loops are discrete — Only known by people needing hearing assistance. No boxes, headphones, or unsanitary equipment. Only your hearing aids or cochlear implants are required to obtain crystal clear sound you need to hear to believe. Hearing Loops are safe for everyone, even for those with implanted medical devices. Why Are Hearing Loops Necessary? A hearing aid amplifies each and every sound. It can be very difficult for the user to hear a specific sound when there is background noise, since the background noise is also amplified. A hearing loop provides a wireless direct link to the sound source, greatly reducing or eliminating background noise. You now clearly understand what has been spoken."
The following is a list of Catholic churches in the Diocese of Madison that we are aware have hearing loops. If you know of others we should add to the list, please let us know by emailing APD@madisondiocese.org!
Baraboo, St. Joseph 300 2nd St, Baraboo WI 53913
Barneveld, Immaculate Conception 100 Church St, Barneveld, WI 53507
Belmont, St. Philomena 338 Chestnut St, Belmont, WI 53510
Beloit, Our Lady of Assumption 2222 Shopiere Rd, Beloit, WI 53511
Cuba City, St. Rose of Lima (IN PROCESS) 519 Roosevelt St, Cuba City, WI 53807
Cottage Grove, St. Patrick 434 N. Main St, Cottage Grove, WI 53527
Deforest, St. Olaf 623 Jefferson St, Deforest, WI 53523
East Bristol, St. Joseph 1935 County Trunk Hwy V, Sun Prairie, WI 53590
Keiler, Immaculate Conception 3685 Hwy HHH Keiler, WI 53812
Madison, Our Lady Queen of Peace 401 S Owen Dr, Madison WI 53704
Madison, St. James 1204 St. James Ct, Madison, WI 53715
Mazomanie, St. Barnabas 410 Cramer St, Mazomanie, WI 53560
Middleton, St. Bernard 2015 Parmenter St, Middleton, WI 53562
Mineral Point, St. Mary and St. Paul 224 Davis St, Mineral Point, WI 53565
Mount Horeb, St. Michael the Archangel 107 S 7th St, Mt Horeb, WI 53572
Pardeeville, St. Mary Church 318 S Main St, Pardeeville, WI 53954
Platteville, St. Mary 130 W Cedar St, Platteville, WI 53818
Portage, St. Mary of the Immaculate Conception 309 W Cook St, Portage, WI 53901
Princeton, St. John the Baptist 1211 W Main St, Princeton, WI 54968
Tennyson, Saint Andrew 101 Church St, Potosi, WI 53820
Sauk City, St. Aloysius 115 Madison St, Sauk City, WI 53583
Waterloo, St. Joseph 387 S. Monroe St, Waterloo, WI 53594
Marshall, St. Mary of the Nativity 120 Beebe St, Marshall, WI 53559
Waunakee, St. John the Baptist 209 South St, Waunakee, WI 53597
Westport, St. Mary of the Lake 5460 Mary Lake Rd, Waunakee, WI 53597
The following parishes have Assistive Listening Devices available:
Dodgeville, St. Joseph 305 E Walnut St, Dodgeville, WI 53533
Madison, St. Dennis 505 Dempsey Rd, Madison, WI 53714
Madison, St. Peter 5001 N Sherman Ave, Madison WI 53704
Waunakee, St. John the Baptist 209 South St, Waunakee, WI 53597
Westport, St. Mary of the Lake 5460 Mary Lake Rd, Waunakee, WI 53597
If you know of other parishes that have a hearing loop or would like your parish added to this list, please email us at APD@madisondiocese.org and let us know!
Ministry for people who are blind
Braille Materials

Text for the Mass available in braille upon request – contact us.

Audio Materials

Apostolate staff is happy to serve as advocates for audio materials related to sacramental prep. For example, a grant could be requested for any audiobooks related to Marriage Prep or Baptism Prep for Catholics who are blind in the Diocese of Madison

Visit Xavier Society for the Blind https://xaviersocietyfortheblind.org/ for resources in Braille and Audio. Resources are available free of charge after a short registration process.
Latest News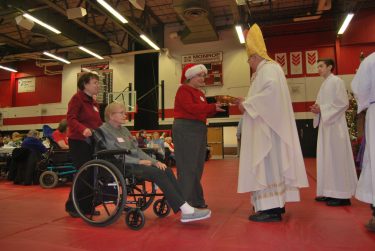 Jul 18 | 2017
The Guidelines for the Celebration of the Sacraments with Persons with Disabilities has been revised and republished by the USCCB! Familiarize yourself with this document. It is a great gift […]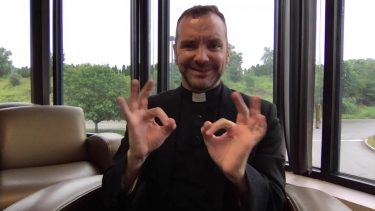 Jun 23 | 2017
Fr. Shawn Carey, a new President for the National Catholic Office for the Deaf, delivers an update from the Board of Directors on the Spring Election, the success of the […]