In some way, most older adults experience one or more significant disabilities at the end of their lives. They are a vital part of our Church, and we seek to accommodate their needs and keep them involved.
Older adults are also invited to enter more deeply into their prayer lives and be leaders in their families and communities in living the devout life because they have more time available to them.
The Apostolate helps people with sensory disabilities (blind and/or deaf) to find a home in their parish and overcome obstacles to receiving the sacraments.
Aging Ministry
Catholic Charities Adult Day Center

Dcn. Jim ministers to the people who attend the Adult Day Center monthly

Volunteer Opportunities

Baking for the Advent/Christmas Party in Monroe

Assistive Listening Devices

Parishes that are unable to afford assistive listening devices or hearing loops for people who are hard of hearing in their parish can apply for a grant from the Apostolate. The Apostolate wants to ensure that every person is able to hear the good news of the Gospel!

TV Mass

Since 1967, the Apostolate has provided a weekly TV mass celebrated by a priest from our diocese for those who are home-bound or have difficulty getting to their church.
Times and channels

6am on WISC-TV 3
7am on TVW (Channel 3.2 for those with antennas) and Direct TV 14 (Cable)
Past masses are posted to our Facebook page early each week
Latest News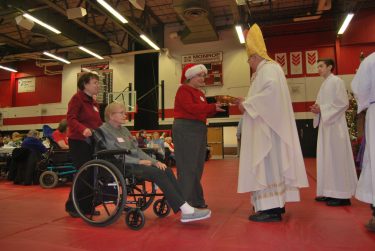 Jul 18 | 2017
The Guidelines for the Celebration of the Sacraments with Persons with Disabilities has been revised and republished by the USCCB! Familiarize yourself with this document. It is a great gift to have church leadership working to help people with disabilities be fully included in the life of the Church. Read the Guidelines today!